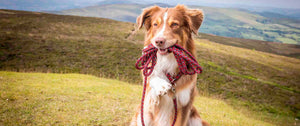 EVERYTHING REDUCED TO CLEAR
With a heavy heart we have made the unfortunate decision to close down DapperDog. On the upside we have some seriously good final offers! Absolutely everything on our website has been greatly reduced to clear. Enjoy them whilst you can!
Thank you for your continued support
The DapperDog Team
BASIC
RANGE
This range is perfect for the new dog or puppy owner. The matching collar, three-in-one lead and harness range is super adjustable for the growing dog, lightweight and washable. 
SHOP NOW
PROFESSIONAL
RANGE
With inbuilt design detail, this is ideal for owners looking for optimal adjustability in collars, harnesses and adjustable leads. In sturdy lightweight nylon it's a comfy and secure fit on all breeds.
SHOP NOW
PROFESSIONAL
COMFORT RANGE
Lined with neoprene, this range is comfortable, adjustable and stylish. Inbuilt safety features ensure protection as well as maximum comfort.
SHOP NOW
SOFT AND SAFE RANGE
With reflective stitching and a cosy neoprene lining, the collar, adjustable lead and lightweight and simple to put on harness offers style, comfort and high visibility. Available in a choice of four colours.
SHOP NOW
ACTIVE PRO RANGE
Lined with a breathable mesh fabric, this lead, collar and harness set has extra design details that set it apart. Beautifully lightweight, with reflective seams it has all the design extras you'd expect in a premium range.
SHOP NOW